Are you looking for a hotel in Tuscany to attend The Away From Home Festival 2023 by Louis Tomlinson? On Saturday, August 19th, the Bussoladomani Park in Lido di Camaiore will host the third edition of the festival conceived and curated by the artist, who is also the event's headliner. In this article, you will find a discount code to book a hotel that is perfect for you if you're going to the festival (tickets available on Ticketmaster and Ticketone).
Lido di Camaiore is one of the most famous seaside resorts in Tuscany, located on the coast between Viareggio and Marina di Pietrasanta. Its strategic location makes it easily accessible from various cities in the region, including Pisa. Booking a hotel in Pisa to attend The Away From Home Festival 2023 can be a great idea for several reasons.
Keep reading to find out the best hotel to book for Louis' festival on August 19, 2023, and why we recommend it.
Which hotel to book for The Away From Home Festival Italy
The hotel we recommend booking if you're attending Louis Tomlinson's festival in Lido di Camaiore is the Galilei Hotel in Pisa (www.hotelgalileipisa.it).
Why is it recommended?
Here's why you should consider staying at this hotel:
EVENTS BY BUS DEPART FROM THIS HOTEL
Eventi in Bus shuttle buses to the Festival depart from the Hotel Galilei square.
You won't have to worry about how to get to the Bussoladomani Park as the bus will stop at the entrance of the festival, and 40 minutes after the concert ends, it will depart to take you back to the hotel. The round trip transportation with Eventi in Bus costs a total of 28 euros, thanks to the discount offered by Team World.
If you have decided to travel with Eventi in Bus to reach your favorite concert or the convention and fair of your interest, know that you can book using the discount code offered by Team World, which is valid for all events listed on the website www.eventinbus.com.

During the booking process, inside the "BUONO SCONTO" field, copy and paste this code: TEAM-W
That's absolutely true! While you might find cheaper hotels in Pisa (or other cities), you would need to consider the additional expenses of reaching the Bussoladomani Park and/or the nearest Eventi in Bus stop. By staying at the Hotel Galilei, everything will be just a few steps away, saving you both time and transportation costs!
EXCLUSIVE DISCOUNT
We have arranged an exclusive discount for all Louis fans to book one or more rooms at the Hotel Galilei in Pisa. The code is Louis23, and below you will find all the steps to use it:
Click here to book one or more rooms at the Hotel Galilei in Pisa (if the link doesn't work, click here www.hotelgalileipisa.it)
Provide the arrival date, number of nights, and number of adults (you can also add more rooms if you are a group of people)
In the SPECIAL CODE field, enter: Louis23
Click on SEARCH
You will see the discounted price in red (as shown in the image below)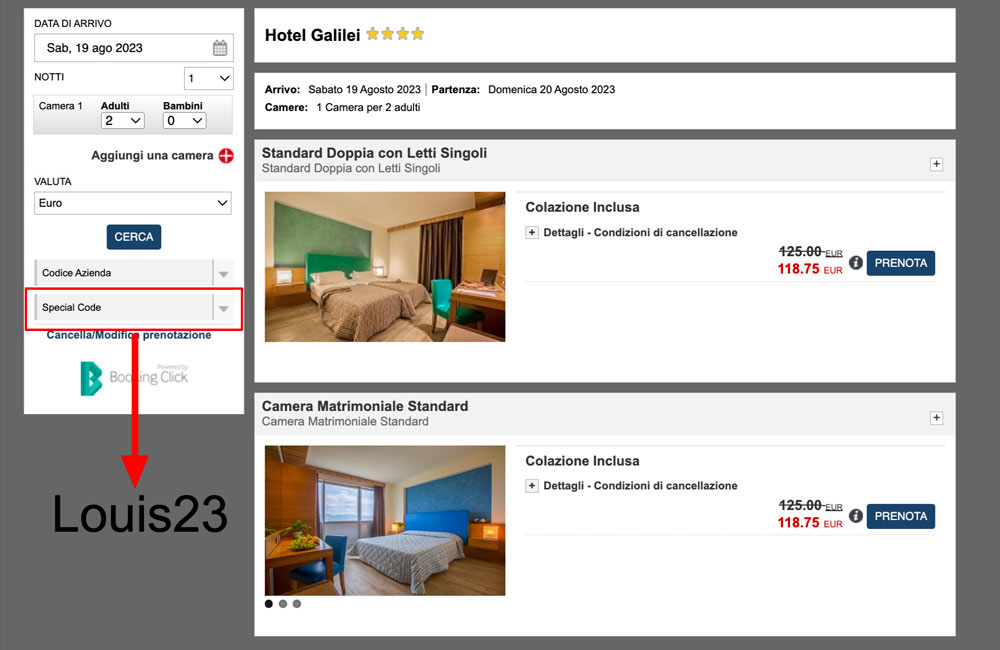 Currently, the price of a double room at the Hotel Galilei in Pisa is 118.75€. If you are two people, you will pay less than 60€ each with breakfast included (keep in mind that it is the high season in Tuscany during that period!). If you book a triple room, it will be less than 46€ per person with breakfast. By taking Eventi in Bus from the hotel square and returning there in the evening, you won't have to spend extra on taxis, trains, or any other means of transportation to get to the event.
Why choose a hotel in Pisa?
The festival conceived and curated by Louis Tomlinson will take place on August 19th in Tuscany, a period when this Italian region attracts tourists from all over the world. The high season inevitably leads to an increase in prices for all accommodations, especially in a location like Lido di Camaiore, famous for its sandy beaches and lively nightlife.
Choosing to book in Pisa, which is less than a 30-minute drive from Lido di Camaiore, can save you a lot of money. Additionally, if you've never been to this city, you should definitely take advantage of the opportunity!
Indeed, in Pisa, you'll find the famous Leaning Tower, one of the most ancient and prestigious universities in Europe, and countless artistic and architectural beauties, including the Piazza dei Miracoli and the Baptistry.
If for any reason this hotel doesn't meet your requirements, you can always search for another property on TRIVAGO.IT, a platform that allows you to compare all available offers from websites like Booking, Expedia, Hotels.com, and more.