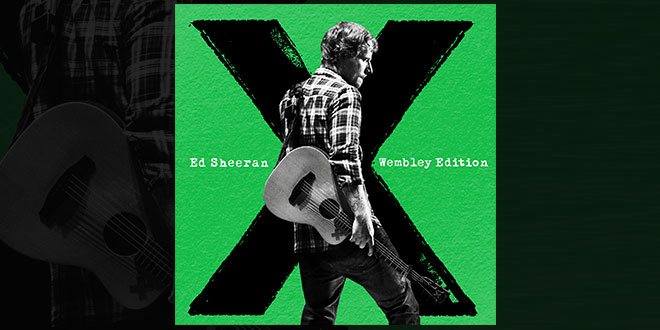 Ed Sheeran annuncia l'album x (Wembley Edition) con 4 brani inediti!
E' disponibile nei negozi e in digitale la riedizione del pluri-premiato album di Ed Sheeran "x" (multiply) arricchito da inediti e nuovi brani in tracklist, il tutto per celebrare l'indimenticabile tre-giorni di concerti allo Stadio Wembley di Londra.
"x" (Wembley Edition) è disponibile nelle versioni CD + DVD e in digitale (acquista l'album su iTunes QUI). La riedizione di "x" è in vendita anche su Team World Shop, acquista la tua copia QUI.
"x" WEMBLEY EDITION


5 MOTIVI


PER AGGIUNGERLA NELLA VOSTRA COLLEZIONE
>> LEGGI QUI <<
"x" (Wembley Edition) |

CD + DVD
CD
1. One
2. I'm A Mess
3. Sing
4. Don't
5. Nina
6. Photograph
7. Bloodstream
8. Tenerife Sea
9. Runaway
10. The Man
11. Thinking Out Loud
12. Afire Love
13. I See Fire
14. English Rose – INEDITO
15. Touch And Go – INEDITO
16. New York – INEDITO
17. Make it rain  – INEDITO
18. Lay It All On Me (Rudimental Feat. Ed Sheeran)
DVD LIVE "JUMPERS FOR GOALPOSTS"
1. I'm A Mess
2. Lego House
3. Photograph
4. Bloodstream
5. Don't
6. I See Fire
7. Don't Go Breaking My Heart
8. Thinking Out Loud
9. The A Team
10. You Need Me, I Don¹t Need You
11. Sing
12. Afire Love
13. Drunk
14. Tenerife Sea
15. Take It Back/Superstition
Il film concerto "Jumpers For Goalposts" sarà presto disponibile anche in versione Blu-ray (senza CD).
"x" (Wembley Edition) |

DIGITALE
CD 
1. One
2. I'm A Mess
3. Sing
4. Don't
5. Nina
6. Photograph
7. Bloodstream
8. Tenerife Sea
9. Runaway
10. The Man
11. Thinking Out Loud
12. Afire Love
13. Take It Back
14. Shirtsleeves
15. Even My Dad Sometimes
16. I See Fire
17. English Rose – INEDITO
18. Touch and Go – INEDITO
19. New York – INEDITO
20. Make It Rain  – INEDITO
21. Parting Glass (live da Wembley)
22. Small Bump (live da Wembley)
23. Lay It All On Me (Rudimental Feat. Ed Sheeran)