26 aprile 2012 14:20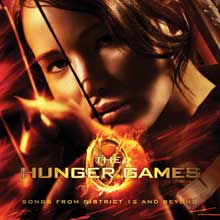 Negli scorsi giorni vi abbiamo parlato dell'enorme successo mondiale della colonna sonora di "Hunger Games", l'adattamento cinematografico dell'omonimo romanzo di fantascienza scritto da Suzanne Collins atteso in Italia per martedì 1 maggio (TRAILER e SINOSSI in questa news).
"The Hunger Games –  Songs from District 12 and Beyond" è entrata direttamente in vetta alle più importanti classifiche di vendita conquistando immediatamente la posizione #1 della Billboard Top 200 e di iTunes (classifica album) in America. Un vero record mai registrato dal lontano 2009! La colonna sonora ha seguito il successo mondiale del film che nella prima settimana di programmazione ha incassato oltre 155 milioni di dollari!!
I sorprendenti risultati raggiunti hanno attirato l'attenzione dei media che hanno confermato l'incessante posizione #1 in classifica per numerose settimane sottolineandone gli incredibili risultati di vendita.
Primi tra tutti i noti "People" e "The Wall Street Journal", che hanno dedicato spazio al fenomeno nelle loro edizioni cartacee ed altre importanti testate di cui vi riportiamo i link:
Hunger Games Rassegna stampa internazionale
All'interno di Team World Shop (http://teamworld.it/shop) è possibile acquistare il CD "The Hunger Games –  Songs from District 12 and Beyond" al prezzo di 16,60€. Tra tutti coloro che effettueranno l'acquisto,  alcuni fortunatissimi utenti si aggiudicheranno anche il fantastico braccialetto del film.
Ma non è tutto: acquistando la colonna sonora di "Hunger Games" nello shop avrete la possibilità di acquistare contemporaneamente il libro dei One Direction "Il Coraggio di Sognare – Noi, gli One Direction" al  prezzo totale di 33,50€ con SPEDIZIONE GRATUITA.
TRACKLIST
01 Taylor Swift (Feat. The Civil Wars) – "Safe & Sound"
02 Taylor Swift – "Eyes Wide Open"
03 Arcade Fire – "Abraham's Daughter"
04 Kid Cudi – "The Ruler & The Killer"
05 Miranda Lambert (Feat. Pistol Annies) – "Run Daddy Run"
06 The Civil Wars – "Kingdom Come"
07 The Decemberists – "One Engine"
08 Glen Hansard – "Take the Heartland"
09 The Low Anthem – "Lover is Childlike"
10 Punch Brothers – "Dark Days"
11 Secret Sisters – "Tomorrow Will Be Kinder"
12 Birdy – "Just a Game"
13 Ella Mae Bowen – "Oh Come & Sing"
14 Jayme Dee – "Rules"
15 Carolina Chocolate Drops – "Reaping Day"
16 Neko Case – "Give Me Something I'll Remember