AGGIORNAMENTO del 21 giugno: In attesa dei concerti dei 1D in Italia, Team World Shop ti offre il DVD "Up All Night – The Live Tour" a un prezzo eccezionale! Acquistalo QUI. Il DVD è disponibile anche in BUNDLE con il libro "Il coraggio di sognare", "Forever Young" oppure con i 3 CD Singoli ("What Makes You Beautiful", "Gotta Be You" e "One Thing") a un prezzo imbattibile! Acquistalo QUI!
---
I One Direction saranno presto in tour in Italia?
Qualche giorno fa Harry Styles aveva annunciato un tour mondiale su Twitter e col passare dei giorni i ragazzi sembrano non smentirsi.
Ieri pomeriggio infatti Liam Payne, ha risposto ad una fan italiana che si augurava che il Tour avrebbe toccato anche l'Italia e, dopo aver interpretato il suo messaggio, le ha scritto:
"Sono sicuro che lo faremo."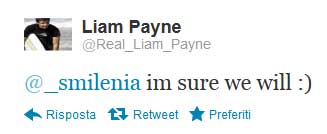 Che dire? Incrociamo le dita!